Archbishop of York praises Cumbrian strength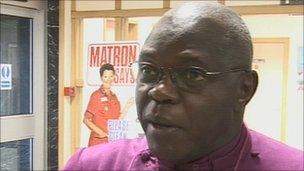 The Archbishop of York has praised Cumbria's "community strength" during a two-day visit to the county.
Dr John Sentamu met emergency workers and volunteers who helped deal with the devastating floods, the Keswick bus crash and the Derrick Bird shootings.
He also viewed a number of sport, equality, youth and community development projects, and attended a civic reception at Carlisle Cathedral.
Dr Sentamu said that the community's strength had helped it survive.
There was a meeting behind closed doors with taxi drivers who worked with gunman Derrick Bird.
He visited Whitehaven's West Cumberland Hospital, where many of the shooting victims were treated.
Some of the staff were also members of mountain rescue teams, which helped rescue people during the floods in November 2009.
Dr Sentamu said: "What is remarkable is that in some of the little places and hamlets people have a bigger sense of community than in some other parts of the country.
"When the community is strong it is capable of surviving and rising up out of its troubles."