How a £14m cocaine ring was broken by Cumbria Police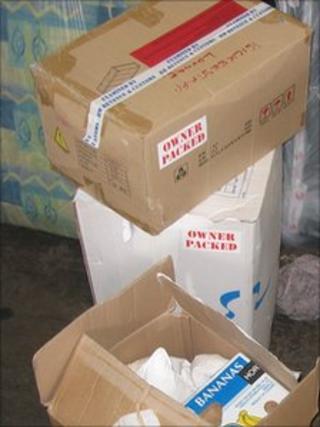 The conviction of a gang of drugs traffickers has brought to an end one of the largest operations undertaken by Cumbria Police.
Twelve officers spent almost three years dedicated exclusively to "Operation Addington", and at its height about 100 others from the force were involved.
The pay-off took place in May 2008 with the seizure of a 105kg stash of cocaine from a van at Harwich Docks in Essex.
Concealed inside a load of furniture, the haul had an estimated street value of £14m, and was destined for the north west of England.
The gang's method was to use their detailed knowledge of the removal of soldiers' belongings from Germany back to the UK.
Members went to great lengths to avoid detection, using multiple mobile phones and phone numbers, convoluted travel routes to get to and from the continent and even ran small businesses as a front for the drug trafficking.
Fictitious soldier
The conspiracy covered the period between February and May 2008, and comprised three trips to the continent.
During the first, at the beginning of April, no drugs were brought back.
Police said that the second run was more successful for the gang and an undisclosed amount of drugs were distributed.
However, unknown to them, the first stage of the third run was being covertly filmed by officers from the Cumbria force.
Their footage showed a van being loaded with furniture at a unit at an industrial estate in Preston, Lancashire, on 28 April 2008.
The furniture was transported to Germany, where it was packed with cocaine.
It was then brought back to the UK in the guise of the belongings of "Bickerstaff", a fictitious soldier.
A legitimate haulage company, which was unaware of its illegal cargo, made the return journey.
Third parties
On 3 May, HM Revenue and Customs stopped the vehicle at Harwich Docks.
They found the drugs, packaged and marked with 12 unique symbols, suggesting that they were destined for 12 separate criminal gangs, to be cut and sold on to third parties.
Det Ch Insp Jeff Ashton said after the verdict: "The defendants that were found guilty today had connections to the higher echelons of the drug-trafficking world, with national and international connections, and the impact of these convictions cannot be underestimated.
"They undoubtedly planned to bring cocaine to the north west of England in significant quantities, which would have brought with it the associated problems of acquisitive crime.
"It is because of the hard work and dedication of our officers, coupled with the support of CPS, that we have been able to dismantle this criminal gang."
Correction 5 September 2016: This report has been amended to remove an incorrect reference that the drugs were seized at Harwich by Cumbria Police.