Carlisle standing by Gary Madine over pub assault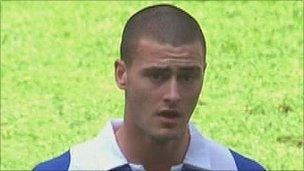 Carlisle United has said it will stand by striker Gary Madine after he was sentenced to community service for attacking a man in a pub.
The 20-year-old had earlier pleaded guilty to causing actual bodily harm during the incident in the Beehive in Carlisle on 27 February.
His club said it had carried out an internal disciplinary process but did not give details.
A spokesman also described Madine as "disappointed with himself".
Madine, who comes from Birtley, Tyneside, and currently lives in Carlisle, was sentenced to 250 hours community service, to be completed within 12 months.
He was ordered to pay £1,500 compensation to his victim and £1,800 in costs, and given an 18-month exclusion order for the Beehive pub.
Andy Hall, Carlisle United spokesman, said: "He doesn't need me, or anyone at the club to tell him that what he did was wrong.
"He knows he made a mistake and has now felt the full process of the law.
"No way do we condone his actions, but we do feel that, this aside, he's a genuinely good young man who has had to grow up quickly.
"What's needed now is for Gary to show that the support we've given him has been worthwhile.
"We think he's been doing that. Hopefully it will continue and we can all put this behind us."
Related Internet Links
The BBC is not responsible for the content of external sites.