Drivers in Cumbria warned over flooded roads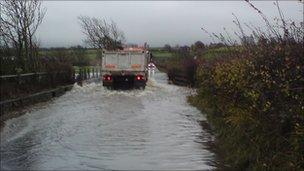 Heavy rainfall has been causing problems for motorists in Cumbria, with localised flooding and standing water in many areas.
Five flood warnings remain in place in the Keswick, Kendal and Egremont areas, and roads around Ambleside have been particularly badly affected.
Drivers are being warned to take care and avoid making unnecessary journeys.
Hundreds of people were left homeless following devastating flooding in Cumbria in November 2009.
Glynn Vaughan, from the Environment Agency, said that although the rain was not as bad as last year, people should not be complacent.
"The fact is that there's a lot of water about," he said.
"The rivers are very high and lake levels are very high, so there's very little storage.
"There's also a lot more rain to come tonight, so I would urge people to start taking precautions now.
"Better to be safe than sorry."
Related Internet Links
The BBC is not responsible for the content of external sites.