Alston Moor film project awarded £22k funding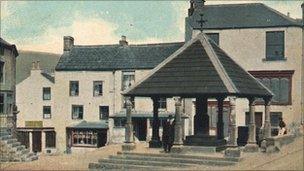 A film project based in a Cumbrian town has been awarded £22,000 by the Heritage Lottery Fund.
The film, based in Alston Moor, will blend old photographs and images alongside re-enactments against modern day backdrops.
Volunteers involved in the project, run by Alston Moor Film, will be given training on producing the film.
Equipment and promotion will be funded by a £4,000 grant from the North Pennines Area of Outstanding Beauty.
The film "Views from the Market Cross" will also support research and interview training for local volunteers.
It is hoped the project will record traditions and demonstrate the sense of local pride in the community.
Alston Moor Film is a not-for-profit organisation.
Project manager Simon Danby said: "Celebrating and having a good old moan are all a part of our real lives but we've never had a good chance to tell our own stories.
"From time to time companies parachute in and make pieces about us - sometimes flattering, sometimes upsetting.
"We're not trying to match or mimic that professionalism though. We'll be happy with a final DVD which feels like we've made it ourselves."
Related Internet Links
The BBC is not responsible for the content of external sites.