Furness 'super-school' excludes 380 pupils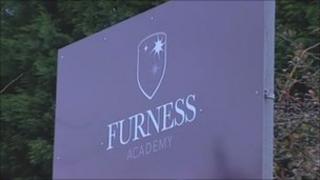 A "super-school" in south Cumbria excluded more than a fifth of its pupils in its first year, its principal has revealed.
A total of 380 pupils were temporarily ordered out of Furness Academy in Barrow, which opened in 2009.
Principal Doug Blackledge defended the move and said he had a "zero-tolerance" towards behaviour such as swearing.
The Department for Education said exclusions were at the discretion of individual schools.
Mr Blackledge said: "The number is larger than we would want, but it is not unusual in the first year of an academy to find ourselves setting new standards and for there to be a period of adjustment for pupils, and maybe parents.
"When the academy opened we inherited a large number of students who thought it was ok to swear as part of their communication with each other and staff.
"For me that is wholly unacceptable - we told all our parents on day one we have a zero tolerance policy towards swearing.
"I am not prepared to lead an academy where people think it is okay to talk in that manner and I make no apologies for that."
The school's first GCSE results were announced in September - 34% passed five GCSEs, compared with the national target of 46%.
Mr Blackledge said the first year of a new school was always a challenge and standards would improve.