Cumbria wood has 'most diverse range of moths'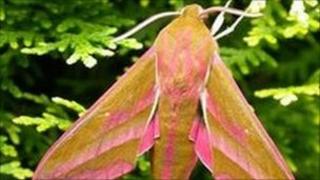 An ancient woodland in south Cumbria has been recognised as the home of hundreds of rare moths.
According to a survey by Natural England almost 350 species can be found at Roudsea Woods, near Haverthwaite.
The independent organisation has now officially recognised the site as having the most diverse moth population in the UK after a two-year survey.
The wood is home to lots of varieties of the species including Square-spotted clays and Barred-tooth stripe moths.
During the survey 22,500 varieties were recognised at 100 sites in the UK.
Rob Petley-Jones, senior reserves manager at Roudsea Woods, said the stability of the habitat attracted moths.
He said: "They are not just boring little brown things - we have got lots of gorgeous, brightly-coloured autumn moths at the moment who don't mind flying in the rain.
"Also lots of moths are a good indication of how healthy the environment is.
"It is an ancient woodland and has been around since the last Ice Age, developing through all those thousands of years.
"Dramatic change tends not to happen here - it is a stable landscape and nature reserve which is good for moths."
Natural England is an independent organisation whose aim is to protect the environment.
Chief scientist Dr Tom Tew said: "Moths, by their nature, are elusive, so the findings of this comprehensive study into the diversity and distribution of moths in our woodlands provides an important scientific record.
"The findings also demonstrate how important woodland habitats are."