Cumbrian women's nude MS calendar raises £8,000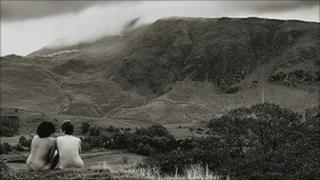 A nude calendar featuring Cumbrian women with multiple sclerosis (MS) has proved so popular it is being reprinted less than a month after being released.
Twelve women bared all for a series of artistic photos on the Cumbrian fells to raise funds for MS research.
The Moving Mountains calendar was released on 7 September and has already sold almost 800 copies, raking in more than £8,000.
Now a second print run has been ordered in an effort to keep up with demand.
The calendar, inspired by the famous Calendar Girls from Rylstone Women's Institute in North Yorkshire, was the idea of Sue Hope, whose daughter Carrie was diagnosed with the disease when she was four.
Carrie said: "Sales have been amazing. A lot of people in Cumbria have got the calendar, but we know of a lot from other parts of the country too.
"I was really scared when it came to taking my robe off for the photo shoot. But once I had done it I found it a really positive and liberating experience."
Mrs Hope said: "You feel so helpless as a mother when your daughter has MS.
"All I wanted to do was help and make as much money as possible which could go towards research."