Landlocked town's Cumbria lifeboat gift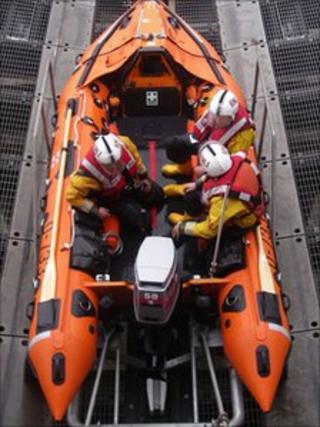 A Cumbrian lifeboat station has taken delivery of a new inshore rescue boat, courtesy of the residents of a land-locked English town.
The "Vision of Tamworth" will replace the Barrow station's former D class lifeboat which has reached the end of operational life.
Like its predecessor it has been paid for by people in its namesake Staffordshire town.
They raised £47,653 to fund the new vessel and its maintenance costs.
Chairman of the Tamworth RNLI branch, Jill Brown, said it took two years to raise the money though events such as whist drives, lunches and even a fashion show.
"We worked hard but also had a lot of fun," she said.
"Even though we live some way from the sea, the people in Tamworth were extremely supportive and they should be proud that a lifeboat bearing the name of our town will be saving lives off the Cumbrian coast.'"
David Green, Barrow RNLI Lifeboat operations manager, said: "Everyone here is extremely grateful to our supporters in Tamworth for providing us with this wonderful new lifeboat.
"Vision of Tamworth will be formally named next year, when we look forward to welcoming some of our Staffordshire supporters at Barrow lifeboat station and thanking them in person for all they have done for us."