Child services in Cumbria face multi million-pound cuts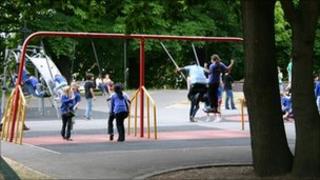 Cuts of almost £8m are expected to be confirmed by councillors in Cumbria in the wake of public sector budget reductions announced by the government.
Children's services will bare the brunt of the cuts, according to the Conservative and Labour-controlled Cumbria County Council.
Schemes for new and revamped play areas and children's centres face the largest cuts totalling £1.5m.
The council said it was also braced for cuts to child disability services.
Labour group leader and deputy leader of the county council Stewart Young, said the authority had suffered big cuts to grant allocations from government departments.
He said: "It has been a very difficult task to cut almost £8m from our budget in the middle of our financial year.
"Most of the cuts are in grants for activities which the government has decided it no longer wishes to support, and we cannot continue to fund them if the money is removed.
"We are particularly concerned that we are still awaiting decisions from the government on respite care facilities for disabled children and children's centres.
"These cuts are only the first instalment and we await the outcome of the Comprehensive Spending Review which will determine how much funding we get next year.
"There is at present a lot of uncertainty about the exact impact on local government, but from the announcements which have been made, we think we may be looking at cuts of £30m to £40m.
"Continuing to protect services when faced with cuts of that magnitude would be extremely challenging."