Furness 'super-school' head speaks out for pupils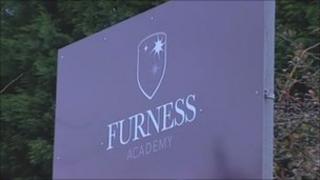 The man in charge of a new academy in south Cumbria has defended its poor exam results.
Furness Academy opened its doors in 2009 and its first set of results were below the national average - only 33% passed five GCSEs - the target is 46%.
But principal Doug Blackledge said the first year of a new school was always a challenge and standards would improve.
Independent Barrow councillors are now calling for the government to investigate the school's performance.
Furness Academy replaced Barrow's Thorncliffe, Parkview and Alfred Barrow secondary schools.
Mr Blackledge added: "Year one was a challenge, it is for all academies and it is not at all unusual for there to be a small step back when measured against predecessor schools.
"What we have to do is to ensure that the right quality of provision is in place so that all our young people can achieve their personal best."
Lisa Hammond, independent councillor for Parkside in Barrow, has two sons at the school.
'Very angry'
She is calling for the Department for Children, Schools and Families to investigate the academy's performance.
She said: "A number of the co-founders of the academy suggested that those who did not believe in it would feel extremely silly as it marked its first birthday.
"They said the results would show that it was one of the best academies, not just in the county, but in the country.
"But I do not feel silly, I feel very angry."
Nationwide 46% of pupils are expected to gain five or more passes, grade A* to C.
The academy is sponsored by Furness College, the University of Cumbria and Barrow Sixth Form College.