Refund for Cumbria Great North swimmers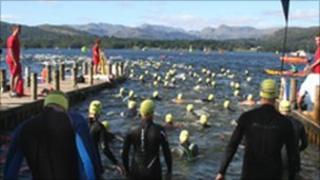 Plans to reschedule the Great North Swim in Cumbria after potentially dangerous blue-green algae was found in the water have been scrapped.
The Environment Agency found the algae, which could cause sickness or skin rashes, in Windermere.
Nearly 9,000 swimmers who signed up for the charity swim, which was due to take place last weekend, have been refunded or offered a place in the 2011 race.
Event organisers, Nova International, cancelled the event for safety reasons.
Now in its third year, the swim in Cumbria raises money for charities and provides a boost to the local economy.
In 2009 an estimated 20,000 spectators watched 6,000 swimmers brave the one-mile, open-water course.