Soldier mourners fill Carlisle Cathedral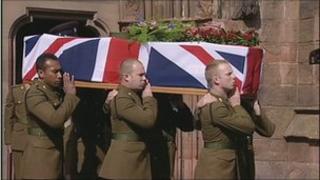 Hundreds of mourners gathered to say farewell to a 20-year-old Carlisle soldier who died of gunshot wounds in Afghanistan.
Sapper Darren Foster of 21 Engineer Regiment died in hospital on 13 August after being shot in the Sangin district of Helmand province.
He had been in Afghanistan for only three weeks.
At his funeral at Carlisle Cathedral a senior officer described him as a good soldier with "bags of potential".
As Sapper Foster's coffin was carried in to the cathedral, Bette Midler's Wind Beneath my Wings was played over speakers.
Before the service, Major Mick Hansekowitsch said: "Darren had not been with us for long.
"He only joined the regiment in May. He was quickly sent out to Afghanistan in July.
"He was a good soldier and one you could trust.
"He very quickly displayed that he had bags of potential and he could have gone a long way."
Sapper Foster's family said in the past that he had had a "crazy, flamboyant lifestyle" and that his "only aim was to serve in the Army, for which he made us all proud."