Whitehaven rugby league fans rally to rescue club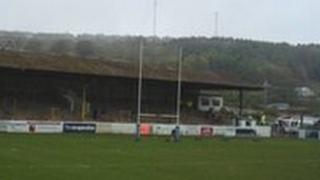 Whitehaven fans have vowed to save their club after HM Revenue & Customs revealed plans to proceed with a winding-up order.
Whitehaven chairman Dick Raaz revealed on Thursday that the Championship One club would seek an administrator within 10 days.
The newly formed Supporters Trust has said it is a "terrible blow".
The rugby league club has debts of about £250,000 and an additional tax bill of £64,000.
'Viable bidders'
A spokesperson for the Supporters Trust said: "All we want to do is set up a properly constituted and democratic organisation to safeguard the club's future."
Mr Raaz told BBC Radio Cumbria: "We have identified a potential administrator and we think there are viable bidders.
"If such a buyer can be found, then the club would be put in administration to negotiate with the debtors, and the creditors, and the buyer.
"The administrators will do all this work to find the most beneficial action for the creditors."
Whitehaven suffered relegation to Championship One in 2010.