Cumbria Police officer to help 'calm' legal high users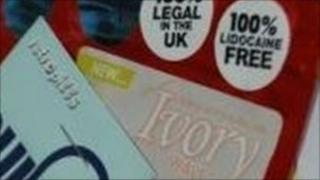 A police officer is to be on hand near hospitals in west Cumbria to help deal with people taking so-called "legal highs".
North Cumbria University Hospitals NHS Trust said 11 people had been treated at West Cumberland Hospital in Whitehaven after taking Ivory Wave in recent weeks.
Patients can become extremely agitated and Cumbria Police has now agreed to have a uniformed officer on hand to help keep them "calm."
The drugs are not herbal and can contain dangerous chemicals, health chiefs said.
A spokeswoman for NHS Cumbria said: "New so-called 'legal highs' can contain chemicals with unknown effects including banned substances - they are not made of natural herbal ingredients.
Calming influence
"After suggestions from healthcare teams, Cumbria Police agreed to make a uniformed officer present in west Cumbria if someone presents at medical services after becoming seriously agitated.
"This is following recent experience where the presence of a uniformed officer had a calming influence on the patient experiencing mental agitation."
Staff at the Trust and police said symptoms of taking the legal substances are worse than those for the banned drug mephedrone which has been linked to a number of deaths.
Symptoms can include extreme agitation, hallucinations and rapid heart rates.