Sellafield safety spots rewarded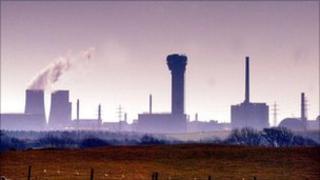 Bosses at Sellafield say a scheme to reward workers for spotting safety risks is helping to cut injury rates.
The scheme at the nuclear plant was introduced earlier this year and involves workers observing colleagues and noting down good or bad practice.
Rewards include televisions and washing machines although the site's best observer so far has only collected enough points for a cinema ticket.
There was a 50% drop in injury rates compared with last year, they said.
Disciplined operations programme manager Andy Hurley said: "We are encouraging people to do an observation process to reinforce positive behaviours and look at at-risk behaviours.
"People don't get rewarded for doing the observations but for taking the time to enter them into a database so we can learn from those observations and share the learning across the site."
Cinema ticket
The scheme has been running for four months and compared with the same period last year there has been a 50% reduction in injury rates.
It is aimed at catching "simple things" like someone forgetting to put safety glasses on or something lying on the floor.
Director of spent fuel management Stuart MacVean said: "The whole idea is to get people engaged in their own safety and the safety of the folks who work around them so that we can have a safer workforce and environment here at Sellafield."
The most observations so far has been 24 which equates to a cinema ticket.
Points can also be given to charity and so far about £7,000 has been donated.