Royal Navy welcomes Cumbrian-built nuclear sub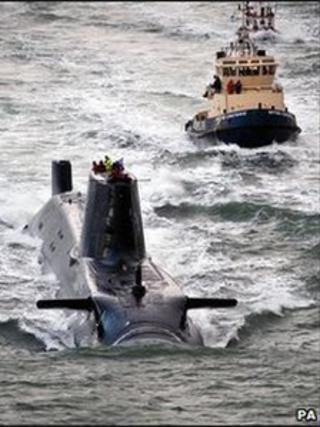 A Cumbrian-built submarine will formally enter Royal Navy service on Friday.
Astute will become Her Majesty's Ship for the first time when it is accepted by the Royal Navy at the Clyde Naval Base in Faslane, near Glasgow.
The Duchess of Cornwall, who is patron of the Astute attack submarine, will be guest of honour at the commissioning ceremony.
The vessel set sail from BAE Systems in Barrow in November.
Since then it has been undergoing sea trials before becoming part of the operational fleet.
Rear Admiral Simon Lister said: "To see Astute commissioned is momentous not only for the Royal Navy but for the thousands of people involved in the most challenging of engineering projects."
Measuring nearly 328ft (100m) from bow to stern, Astute is armed with 38 torpedoes and missiles - more than any previous Royal Navy submarine.
Astute will be able to circumnavigate the entire globe while submerged and advanced nuclear technology means that it will never need to be refuelled.