Rape lie woman who injured herself jailed in Cumbria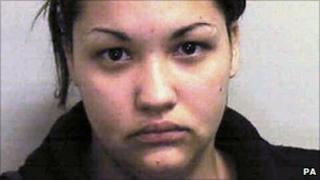 A woman who lied about being raped to "teach a friend a lesson" has been jailed for three years.
Leyla Ibrahim, 22, had been in Carlisle city centre on 4 January when a friend refused to lend her money for a taxi home, the city's crown court heard.
She then gave herself a black eye, cut her hair and ripped her clothes to make it look like she had been attacked.
Ibrahim, of Deer Park Road, Stanwix, was found guilty of perverting the course of justice last month.
Scant resources
Judge Paul Batty said Ibrahim was dishonest from "first to last" as her false claim sparked a £150,000 police investigation and led to the arrest of four innocent men.
The petrol station attendant claimed she was attacked by two youths while walking home.
Photofits were put up and four men were arrested. One man described his ordeal in detention as "torture" while another attempted self harm, the court heard.
But doubts soon emerged about Ibrahim's account when a pair of scissors carrying only fibres of her own clothing were found.
Sentencing Ibrahim, who is seven months' pregnant, Judge Batty, said: "This is a serious offence. It damages the administration of justice in an extremely sensitive area.
"Every false allegation of rape worsens the plight of those women who have been the victim of such a dreadful crime and makes it harder to prove when a crime really has taken place.
"Your behaviour throughout these proceedings has been irresponsible in the extreme and many would say wicked.
"You diverted the scant resources of police who looked for the supposed attackers."
A Cumbria Police spokesman urged genuine victims not to be put off by the case and report attacks.
He said: "It's important that victims who want to report sexual assaults or rapes still come to police.
"We are there, we will support you, we will believe you and at the end of the day we will investigate thoroughly your complaint."