Copy of Shakespeare's First Folio sells for $2.4m in New York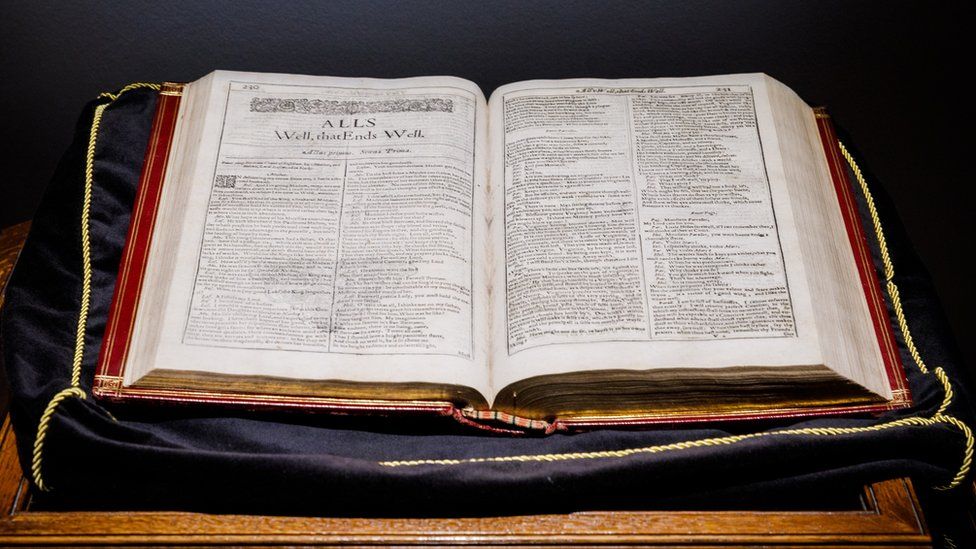 A copy of Shakespeare's First Folio has sold in New York for $2.4m (32m).
Published in 1623, seven years after the Stratford-upon-Avon writer's death, it features 36 manuscripts.
They include 18 plays that would have otherwise been lost, such as Macbeth and The Tempest.
About 750 copies of the First Folio were originally printed, but only 232 have survived, auctioneers Sothebys said, and only a handful of those are in private collections.
Along with the King James Bible it has been described as the most important work in English literature.
It includes an engraved portrait of the author and poetical tributes by Ben Johnson and others.
The copy auctioned on Thursday in New York is estimated to be one of just 20 remaining in private ownership with the rest currently displayed in museums and libraries across the world.
John Heminges and Henry Condell, Shakespeare's partners in the acting company the King's Men, complied and edited the pieces as a means of preserving half of the Bard's plays.
Of the 39 plays written by Shakespeare, 18 including Antony and Cleopatra, The Tempest, Twelfth Night, Julius Caesar, The Taming of the Shrew, and All's Well that Ends Well, are known due to being a part of the folio, Sotheby's said.