Binley Mega Chippy becomes a surprise TikTok star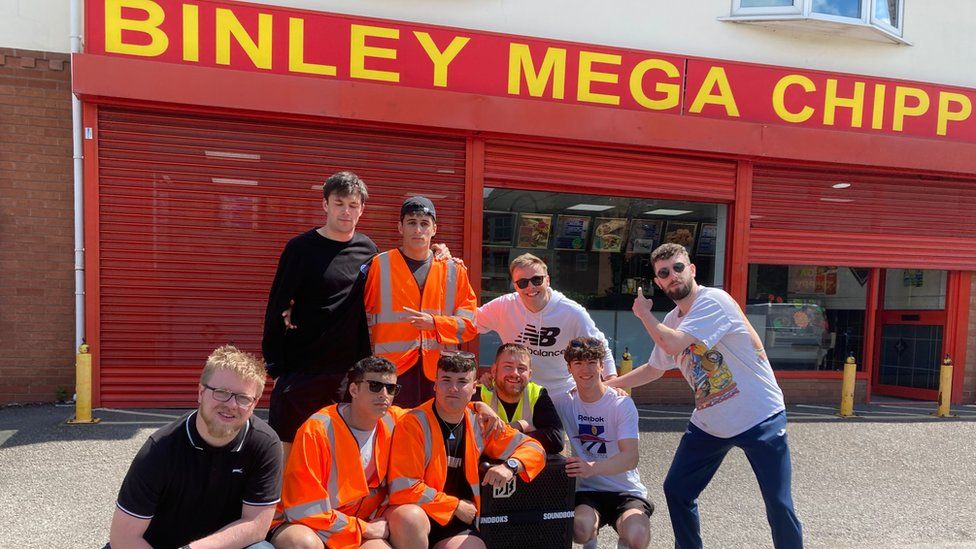 One minute, it was business as usual for a West Midlands chip shop.
The next, TikTok had normality all wrapped up; battering the everyday into submission, and - oh my cod - turning Binley Mega Chippy into an online star.
Now devotees and converts from across the UK are visiting the Coventry takeaway in a pickled egg pilgrimage and saveloy sojourn.
They are among the hundreds of thousands to have watched TikTok videos praising the premises, with a song about it also ensuring the business is no small fry.
On Monday, dozens of people queued at the site, including a group who said they had hired a minibus to come from Scotland. Others said they had travelled from places including Norwich, Liverpool, Gloucester and London.
Some have sung for their supper in a heartfelt paean, sending the haunting lyrics into the Coventry air.
Visitors, however, seem at a loss to explain just what has gone on or why they want in on the trend, other than tagging along just for the - wait for it - halibut.
One person making the trip told the BBC they had no idea why the chippy had become famous, saying "it just keeps coming up on my TikTok".
Ellie, from Coventry, said she had driven past the shop for 15 years without seeing this level of interest but "all of a sudden we have TikTok-ers - it is insane".
A young visitor, Harrison, added: "I think people love things that are, like, really British to the point of you can't explain it unless you live here. There is just something you don't think about, you assume it is normal, but then you realise other countries and other people on TikTok are like 'what the hell is this'?
"These kind of things are very British and our generation love parodying that."
The buzz seems to have begun in April, following a TikTok user's video featuring photos of takeaways including Binley Mega Chippy. From there, another on the social media platform issued a series of videos dedicated to the establishment.
The posts posed questions such as what would Winston Churchill have ordered from there - V for vinegar, probably. Other posts were accompanied by the tribute song, with one video taking off and gaining more than 700,000 views.
As for the staff, they are enjoying the attention, according to one of the managers who described the response as "absolutely mad".
"Everyone has a big smile on their face," he said. "It is absolutely brilliant."
The business reckons it is seeing 10 times its usual trade and is rolling with the popularity.
Operations director Frank Nakra said he did not know why this had happened "but I am loving it".