Bereaved Warwickshire mother shares anger over Partygate report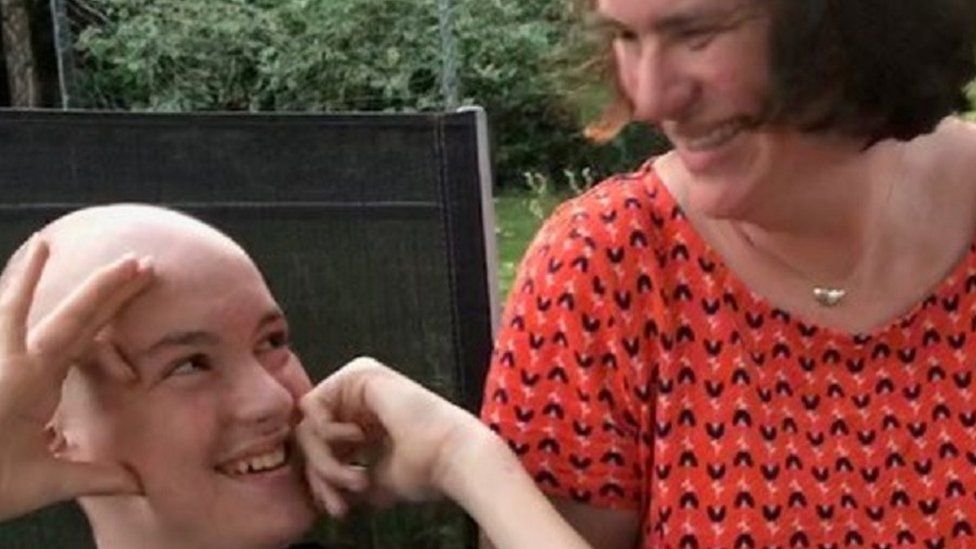 A mother whose son died during the Covid-19 pandemic has described her anger as the prime minister again apologised for rule-breaking parties during lockdown.
Sue Gray's inquiry has found events held in Downing Street "should not have been allowed to happen".
Louise Bennett's son, Fred, 14, who had leukaemia, died during the pandemic.
The mother, from Dunchurch in Warwickshire, said she felt fury as she watched the news unfold.
Fred was diagnosed with an aggressive form of the condition in 2019 and when the pandemic began was an inpatient at Birmingham Children's Hospital and later at Great Ormond Street.
Mrs Bennett said the diagnosis had been "a real shock".
The restrictions had a horrendous impact on her family, she said, as they wanted to keep Fred safe.
"The restrictions meant that although myself and my husband could be with him, the rest of our family couldn't," she said.
On 3 May 2020, Fred died and Mrs Bennett said they were "flung out" into lockdown.
"We weren't able to meet with family, we had to organise his funeral but there was no possibility for an indoor funeral," she said.
"The church was closed so he had an outdoor burial in the churchyard and there were 10 of us present, we couldn't even fit our entire family in the service."
Fred's funeral was held on 13 May, the day before one of the Downing Street parties.
Mrs Bennett said it was difficult to put her reaction to the news of the gatherings into words.
"It is just so tiring to continually hear this onslaught of excuses and justifications and mitigations," she said.
"The anger just doesn't dissipate because there is no responsibility, there is no accountability, and it is really hard to take anything they say seriously."
She said she does not forgive Mr Johnson, who is facing calls to resign.
"I don't see how he can ask to be forgiven because that requires some contrition and that is not something he has shown," Mrs Bennett added.
"We are not going to be able to move on, it is not a case of saying that it is done and dusted, let's just forget about the whole thing because those scars and that trauma and those memories are still very real," she said.
"What all grieving people need is to be heard and understood and we fundamentally have not had that from anyone in the government."
Prime Minister Boris Johnson told MPs on Wednesday that he took "full responsibility for everything that took place on my watch".
He said he had been "humbled by the whole experience" and had learned lessons.