Coventry to host 'bumper weekends' to close City of Culture year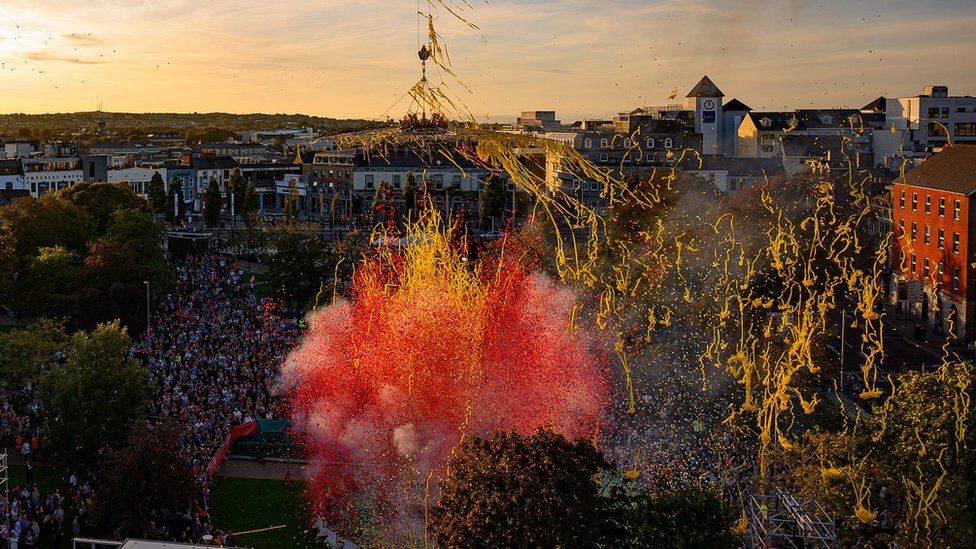 Thousands of people are expected to take to the streets for a "spectacular parade" as part of events to close Coventry's year as UK City of Culture.
The parade called This is the City on 14 May will be among events during "four bumper weekends of activities" that month, say organisers.
Action begins on 5 May when cultural venues hold workshops and activities for the four-day event Coventry Opens.
And 100 children are to take part in a "major outdoor spectacle" in Broadgate.
The children are working with the city's Highly Sprung, a physical theatre company, for the event on 14 May.
The same weekend sees the world premiere of a show called The Awakening, by French company Gratte Ciel.
And on Sunday 15 May, the skies above the city will see a 16-minute drone show called Our Wilder Family, which was inspired by the movements of flocks of birds.
City council leader George Duggins encouraged people to come along and help end the special year "in style".
"Our year may be coming to a close, but it has created something special for all of us and although these may be the closing events, they are really just the latest in an exciting line that will keep culture, heritage and the arts at the centre of Coventry life," he said.
Arts minister Lord Parkinson said the city's tenure had been "absolutely fantastic", it had offered something for everyone and helped increase access to the arts.
The third weekend of celebrations includes marking World Bee Day on 20 May and wildlife and nature events at the city's parks and green spaces.
Festivities conclude with Radio 1's Big Weekend at War Memorial Park from 27 May.
The host of the UK City of Culture 2025 will be announced in the city in late May.
Related Internet Links
The BBC is not responsible for the content of external sites.