HGV driver says 40% pay rise shows industry's desperate situation
By Stephanie Miskin
BBC News, West Midlands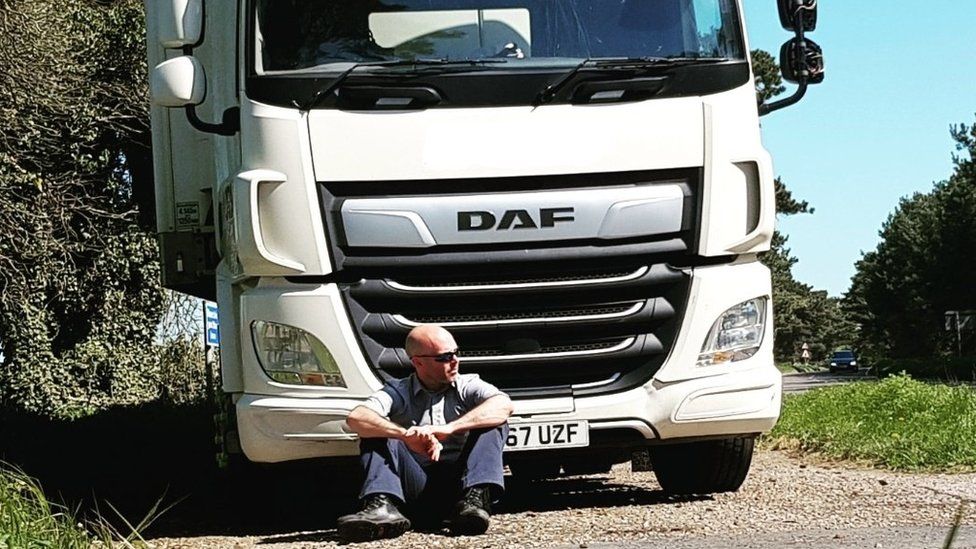 An HGV driver says his 40% pay rise sums up the precarious position the industry is in.
A survey by the Road Haulage Association (RHA) estimates there is a shortage of about 100,000 drivers.
Tom Reddy, a driver for the last 15 years, said he had walked in to work one morning to find he was getting an extra £7 per hour.
"Maybe I'd expect an extra 20p an hour in a normal year, but to have it jump so significantly. It does kind of indicate that something major is going on," the 36-year-old from Stratford upon Avon said.
"Driver wages have been very low for 20 to 30 years and they have not really increased."
However, Mr Reddy, who mainly delivers milk to supermarkets, said increasing pay was "unsustainable" and costs would have to be passed on.
Despite haulage firms being desperate to keep hold of drivers, he said they operated on very tight margins.
Andy Barlow, who works for another firm, Insight Trans Logistics in Inkberrow, in Worcestershire, said drivers' wages already accounted for about 25-30% of the costs of running a vehicle.
He added some firms were advertising drivers' jobs at £50,000 a year and smaller companies could not compete.
Since tweeting about his pay rise and addressing the issue of driver shortages, Mr Reddy said his twitter account had "gone crazy" with more than 4,000 retweets and hundreds of comments.
"It's gone beyond the point that I can keep up with it all. It's been overwhelmingly positive," he said.
Comments include everything from "congratulations" to people posting about sustainability within the industry and increasing prices.
He said some suggested rail freight as a solution, but that many people did not appreciate how much the country depends on HGVs.
"Everything moves by truck. Everything in your house is likely to have been on a truck at some point - that is how reliant we are on them.
"I don't want to overstate the importance of drivers but at the end of the day we are a small island. A small island like this relies on road haulage to get goods around the country."
The RHA has previously blamed a cocktail of issues for the shortage of drivers.
Historical problems in recruitment, work-life balance and the high cost of training it said had all contributed.
"It's not just about the money, it is a very difficult job to promote to people," Mr Reddy said.
"The working hours are very long, the conditions can be rough - living away and sleeping in your lorry, eating in lay-bys, bad food, not being able to exercise. All of these things play in to it."
"There are lots of good points too - the freedom and working on your own, but the barriers to entry are enormous."
He said people's attitudes towards drivers also played a role.
"We don't treat it with the same esteem," he said.
"Drivers used to wear a shirt and tie 30 years ago - there was a professionalism to it but we don't look at it that way any more, which is a shame. It is a skilled job."
In his search for a better work-life balance Mr Reddy himself has decided to walk away from the industry, despite now earning more than £300 a day.
He said he could not fault the firm he worked for, but "even if they offered me £80k I'd step away".
Related Internet Links
The BBC is not responsible for the content of external sites.