Down's syndrome campaigner Heidi Crowter on marriage and loving life
By Rebecca Woods
BBC News, West Midlands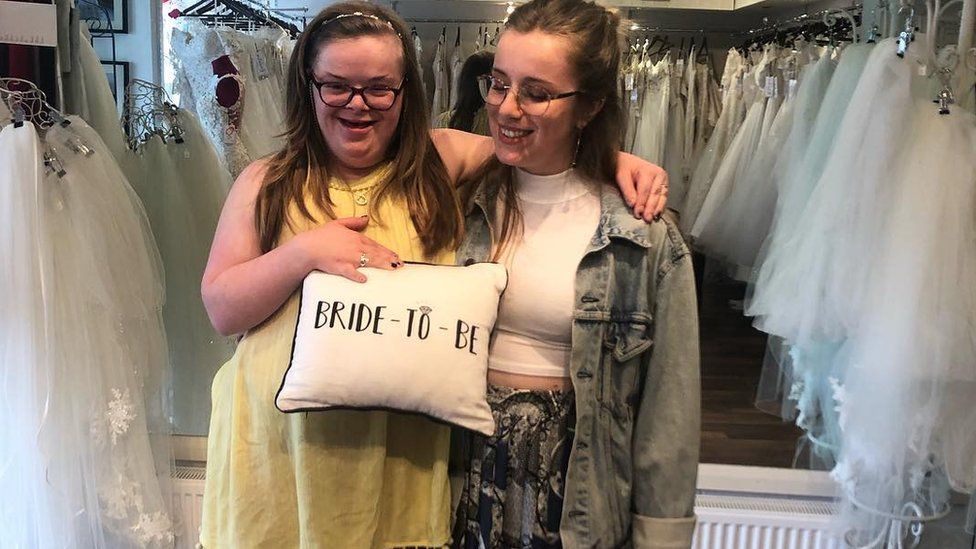 This story was first published on 16 May, before the High Court ruling on 23 September
Heidi Crowter throws her arms up into the air and begins sassily belting out a Beyonce track.
She'd asked for a random date so she could say which famous person's birthday it was. Erm... 4 September?
"Beyonce!" she shouts and breaks into her impromptu dance.
April 16? "Charlie Chaplin!" April 23? "William Shakespeare!"
Knowing prominent birthdays is one of Heidi's passions. "I've got a good memory, although my mum says it's selective," she jokes.
Liverpool FC is another. She's a lifelong supporter and spends hours watching football with husband James, a Crystal Palace fan who has recently developed a keen interest in his wife's team.
Her favourite player? "Mo Salah," she says without hesitation. "He's scored about 100 goals for us. He's amazing."
Heidi, 25, sparkles when talking about her interests - whether that's football, family or Justin Bieber.
It is this energy and enthusiasm for life that has undoubtedly spurred her on to a much more serious pursuit.
On 6 and 7 July, Heidi, accompanied by her husband and mum, went to the High Court in London to attempt to change the law surrounding the abortion of babies with Down's syndrome.
Heidi was devastated when, three years ago, she learned 90% of women whose unborn children were diagnosed with Down's terminated their pregnancies.
These pregnancies can be terminated up to birth, compared with the standard limit of 24 weeks' gestation in England, Wales and Scotland.
Along with Máire Lea-Wilson from Brentford, west London, Heidi argues the law is unequal. She wants to show the world what a wonderful life she and her husband have.
Speaking before the ruling, she said parents only saw "a list of all the medical problems" that babies with Down's syndrome might have.
"That's just not what I am. We should see the people behind the extra chromosome."
Her parents Liz and Steve discovered their daughter's condition after she was born.
"We were both absolutely devastated," says Liz. "It took a long time to come to terms with it."
Heidi was diagnosed with leukaemia, pneumonia, kidney failure and had to have open-heart surgery following her birth.
"I had a hole in my heart, I even stopped breathing," she says. She was put on a ventilator, but not before giving the medics a huge, beaming smile.
Heidi recovered, and seeing the strength of their little girl, Liz and Steve made the decision she would be treated exactly like her two older brothers.
They had no idea what to predict, but Heidi defied expectations at every turn.
She attended a mainstream primary school, where teachers remarked fellow pupils learnt a lot from growing up alongside Heidi. As she repeated a year, she ended up in the same class as her younger sister Suzie.
The two girls went to separate mainstream secondaries. "I loved school," says Heidi. "I made a lot of friends who I'm still in touch with now."
She left with a clutch of GCSEs and went on to do a training course in hair, beauty and employment skills.
Heidi then got a job at Raspberry Kids Hair Salon in Coventry, where she would help with the business's social media, stock-taking and also keeping the young customers amused.
"I learnt a lot of skills," said Heidi. Sadly, she lost her job when salons closed during lockdown but is confident another role will come up soon.
"I'd like to work with children. I've learnt a lot of skills through my nephew Josh, who's 10," she says. "We're very close - I held him the day after he was born and I love him so much," she says, sparkling again.
Her unwavering can-do attitude helped her surpass her educational and employment hopes. She also moved into her own flat in her early 20s.
But Heidi also dreamed of falling in love. And over Facebook Messenger with a young man called James Carter, of Weymouth, that happened too.
"We had a family connection and we just started talking," says Heidi, beaming.
"We're both Christians and we love singing hymns. But the thing we really have in common is we both love Last of the Summer Wine."
Their relationship remained virtual for a year until, their parents realising they were very serious about each other, they met for the first time half way between their homes, in Basingstoke.
"It was love at first sight," says Heidi. Luckily, James shared the same feelings. "He told me he went home to write his wedding speech."
At the end of 2018, the couple were in Playwrights restaurant in Coventry when Heidi asked her dad why he was getting his camera out.
James dropped down to one knee and proposed, having earlier asked for permission.
Their mums were in tears, other diners burst into applause and the restaurant gifted them an extra pudding.
"I said yes," says Heidi. "James told me afterwards my eyes were bright with sincerity."
The wedding was set and Heidi began excitedly planning her hen do, and went wedding dress shopping with Suzie.
And then, the coronavirus pandemic began to sweep across the world. The UK went into lockdown and weddings were halted until further notice.
James had to remain in Weymouth with his family and Heidi, who had been living independently, moved in with her parents.
They were separated for four months, something Heidi described as a "nightmare". "I just missed him so much," she says.
Thankfully, the government announced weddings could take place from 4 July - their original date. The guest list was slashed from 220 to 30, Heidi had two hen dos over Zoom and the ceremony went ahead.
"It was the greatest day of my life," says Heidi. Their honeymoon to Lake Garda is postponed for now - organised by Heidi because of James' love of Italian food.
The couple have lived together in Coventry ever since. This year, however, it is Heidi's campaign Don't Screen Us Out that has kept her occupied.
The current law is simply "not equal", she says.
It is perhaps one of the most complicated subjects in UK law and ethics there is, with counter-arguments prioritising a woman's choice.
What would Heidi say to parents finding out their unborn child has Down's syndrome?
"Try not to be worried. There are a lot of Down's syndrome groups that will support you and lots of groups on Facebook too," she says.
"But also, go and meet someone who has Down's syndrome. Look at the ability not the disability," she adds.
"I don't like that word, because it says what we can't do instead of what we can."
Heidi is immensely proud of her achievements. "My mum didn't think I'd get married - well boy, didn't I blow that out the window," she laughs.
"I just want people to see that we are the same as everyone else."
If you have been affected by issues raised in this story, sources of support are available via the BBC Action Line.
Related Internet Links
The BBC is not responsible for the content of external sites.