Azaylia Cain: Attractions illuminated for baby with leukaemia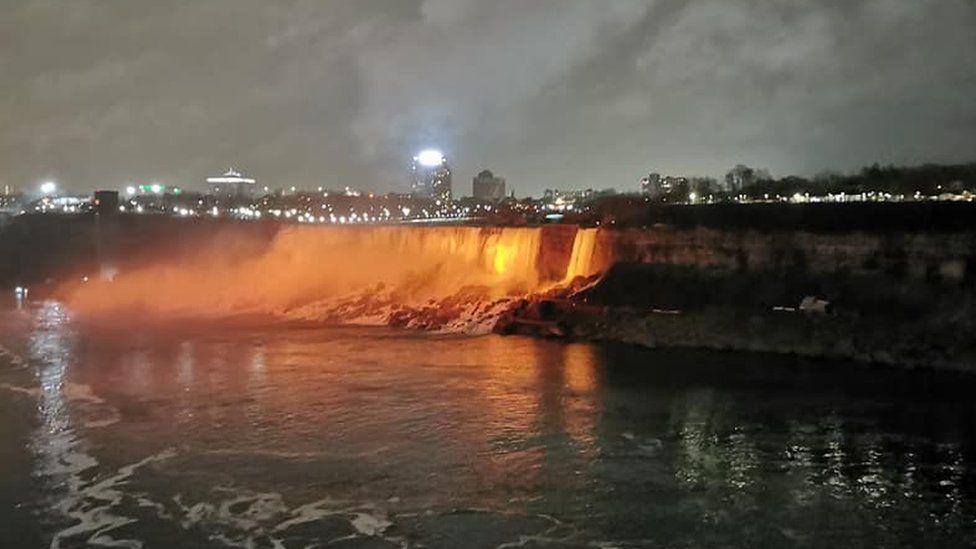 Buildings and attractions around the world have been lit up in support of a baby girl with an aggressive form of leukaemia.
Niagara Falls and Blackpool Tower were lit orange to raise awareness of acute myeloid leukaemia.
An aerial tribute was also seen over the family's Nuneaton home.
In a post on Instagram, Ms Vorajee thanked the Gateshead Millennium Bridge, Niagara Falls and the CN Tower in Toronto for the tributes.
On Saturday a plane drew out a heart and the letter A in the sky.
"My heart filled with pride as I held you in my arms with daddy, and together we looked up to the sky," Ms Vorajee posted.
The tribute "melted my heart," she added.
Keith Wood, who moved to Canada from Birmingham a few years ago, said he had travelled to Niagara Falls to witness the illumination after hearing about Azaylia's story from his family in the UK.
"My mom told me of this brave little girl and that the falls were turning orange for her, and I just had to go and see it and give my support," he said.
The Blackpool Tower is lighting up in orange tonight in support of 8-month-old Azaylia Cain and to help raise awareness of acute myeloid leukaemia.

Keep fighting fearlessly likkle lion.

All our thoughts go out to Azaylia and her family 🧡 #LETSGOCHAMP pic.twitter.com/xw0kHvEP3L

— VisitBlackpool (@visitBlackpool) April 18, 2021
The London Eye has confirmed it will also light up orange later this week.
"We hope that our support helps to raise further awareness of acute myeloid leukaemia and recognises the wide reaching support for the important and moving story of Azaylia Cain's battle with this disease," a spokesman said.
A Facebook group set up to follow Azaylia's fight against the disease has attracted more than 178,000 members.
Ms Vorajee posted on Instagram: "Your battle against AML (acute myeloid leukaemia) has inspired so many people to show kindness. This is so beautiful to see. You are bringing everyone together.
"Thank you for all the beauty & lighting up the world for my little girl."
Related Internet Links
The BBC is not responsible for the content of external sites.