Coventry refugee children's drawings show reality of war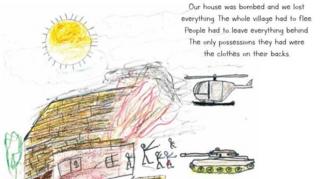 The reality of living in a warzone and being uprooted from home has been portrayed in drawings by young refugees.
Up to 40 youngsters were involved in a project to share their stories of growing up under siege, and the results feature in new books.
The children told of routinely hearing gunshots, "life or death situations" and the joy of now feeling safe.
The storytellers are living in Coventry after being moved from Iraq and Syria.
Maryam Alako, 18, drew a picture of a house being bombed and her terrified family surrounded by a tank and helicopter, their arms held aloft.
She said it reflected the harsh reality of life back at home.
Speaking through an interpreter, she told the BBC: "I wanted to show the life or death situation my family was in. It was terrible. It was dangerous and many people had to leave their homes.
"We are thinking about others who have been through or are going through what it was like for us.
"Life is very different in Coventry. I'm thinking about working for the police."
Her story, titled The Flower of Sadness, was part of the Picture Book project, run by Coventry University and the Nova Scotia College of Art and Design (NSCAD) in Halifax, Canada.
Lara Ataallah, 15, from Iraq, created a fictional story about a girl called Lucy with magical powers.
She said: "It is important to share the experience of being a refugee as many people don't understand what it was like.
"I heard the sound of shooting many times. It was scary."
Siblings Mohammed Alshaebi, brother Mustafa, and their sister Layla, are from Syria.
Mustafa, nine, drew a military aircraft circling the sky. Alongside it was his wish to return to his home country.
"I wanted my picture to show I am thinking about home, but it is very dangerous," he said.
Mohammed, 11, wanted to express his joy at living in a new city.
"I'm feeling happy now. There are more opportunities here."
Layla, 12, added: "People don't have much back home and I wanted to show that in the book."
The youngsters, aged between eight and 19, worked with local artists to tell tales from their cultures.
Dr EJ Milne, senior research fellow at Coventry University said: "They have been able to share their stories as a way to build understanding and give recognition to their skills and potential, and we hope it will help build a better understanding of their circumstances."
The life experiences told in stories are available at libraries in Coventry and Canada.