Coventry North West MP Geoffrey Robinson has mini-stroke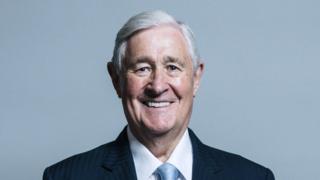 A Coventry MP has undergone surgery after suffering a mini-stroke.
Geoffrey Robinson, 80, who has been the MP for Coventry North West since 1976, said he was "recovering well".
Writing on Twitter, the Labour MP said he had undergone a minor heart operation but would be back in Parliament next week to vote over Brexit.
Mr Robinson is a former Paymaster General and a former chairman of Jaguar and Coventry City FC.
Mini-stroke symptoms are the same as for stroke but last no longer than 24 hours.
Symptoms include facial weakness, such as drooping mouth or eyes, arm weakness, and speech problems.