Coventry double murder suspects 'may also be dead'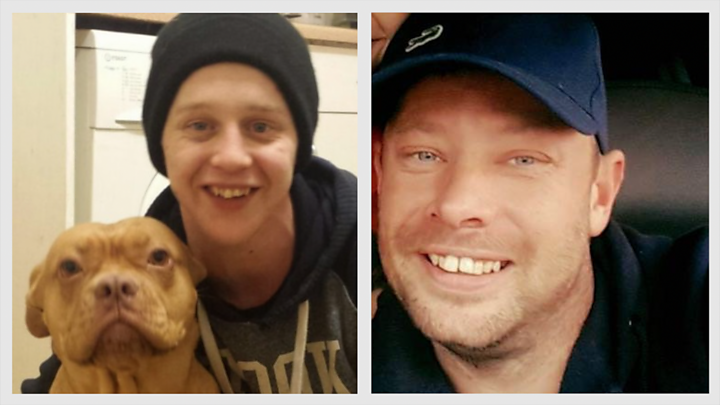 Two men named as suspects in a double murder may also be dead, police have said.
The deaths of John Robbins, 33, and Daniel Shaw, 28, who was shot dead in Coventry, have been linked by detectives.
Warwickshire Police has said Ben Whyley and Ryan Hobday, both aged 29, are wanted in connection with the case.
However, the force also said "proof-of-life" inquiries on both suspects had drawn a blank.
Mr Whyley and Mr Hobday had either deliberately taken themselves "off the radar" or were dead, detectives said.
Police suspect they may have been involved with a criminal gang in the area "that has a grip on" the Tile Hill area of Coventry.
Mr Robbins, 33, who went missing from the city on 21 March, is believed to have been tortured before his death.
Four days after his disappearance, Mr Shaw was gunned down in Tile Hill.
Mr Hobday and Mr Whyley, both aged 29 and from Coventry, have not been seen since the time of the murders, police said.
"We've got information that would suggest two of the people responsible, at least, are also now dead," Det Ch Insp Chris Mallett told the BBC.
"We've certainly had no proof of them being alive in the last six months."
Mr Robbins is believed to have been kidnapped and tortured after he went missing from Tile Hill. His body has not been found.
West Midlands Police said it now knows he was taken to Mr Shaw's home in Torrington Avenue before Mr Shaw was shot outside his address on 25 March.
Two days after Mr Robbins disappeared, his dog Rogan was found about four miles from Tile Hill at Crackley Woods.
Despite extensive searches of the area for a body, one has not been found.
On 22 March, a burnt out BMW was found close to the entrance to the woods and police believe it was involved in Mr Robbins' kidnap.
The force has also launched an appeal to trace a potential witness spotted on CCTV who may have witnessed Mr Shaw being shot.
Det Ch Insp Mallett said there are "various theories" and he "wouldn't want to hang [his] hat on any", however police are not currently looking for anyone else.
In a direct appeal to the public, he said the victims' families are "devastated".
"I need the community of Coventry to stand up to those causing fear and intimidation where you live and stop this from happening again," he said.
"Two innocent men have lost their lives in the most horrific circumstances, please do the right thing and get in touch."