Kenilworth Horse Fair scrapped after 'many years of problems'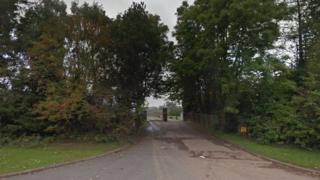 A horse fair which attracts thousands of travellers to a Warwickshire town has been scrapped after complaints and traffic disruption, a council said.
Kenilworth Horse Fair has been held legally three times a year on private land at Thickthorn since 2001.
Council leader Andrew Mobbs said after "many years of problems", the council, police and the landowner agreed last weekend's event there "was the last".
The Gypsy and Travellers Coalition said the move was designed to end tradition.
According to Conservative-run Warwick District Council, the event had, despite extra policing and traffic management, "often caused disruption to the town's residents, businesses and visitors".
Mr Mobbs said: "Now that the agreement has been made, all parties will continue to work together to maintain good relationships within our community."
Mr Mobbs pointed to "incidents during July 2017" as a particular problem and local media reported there had been complaints of anti-social behaviour.
Warwickshire Police said at the time its special constables "carried out reassurance patrols" ahead of the event on land at the junction with the A46 Warwick Bypass and the A456 Leamington Road.
The force usually warned of traffic delays and advised drivers to take alternative routes when the event was on.
Phien O'Reachtagian, chairman of the Gypsy and Traveller Coalition, said he was not surprised by what he described as continuing restrictions on travellers events and way of life.
"It's part of ongoing moves to basically take away the traditions of the Gypsy and traveller community," he said.
"We fear there seems to be a campaign to make life for Gypsies and travellers unbearable - so that we go into hiding like we did in the 16th Century."
Mr O'Reachtagian added all popular events were likely to experience traffic problems, saying "it's just highlighted more if it's Gypsies and travellers".
The long-running fair has been praised on the event's Facebook page.
Roger Penny, said the event was a "time of very great enjoyment, making friends, meeting old friends and most of all for me a gauja (not a Gypsy) being part, for a few days, of an ancient and proud culture which ought to be preserved and encouraged."