Coventry woman appeals for kidney donor with car advert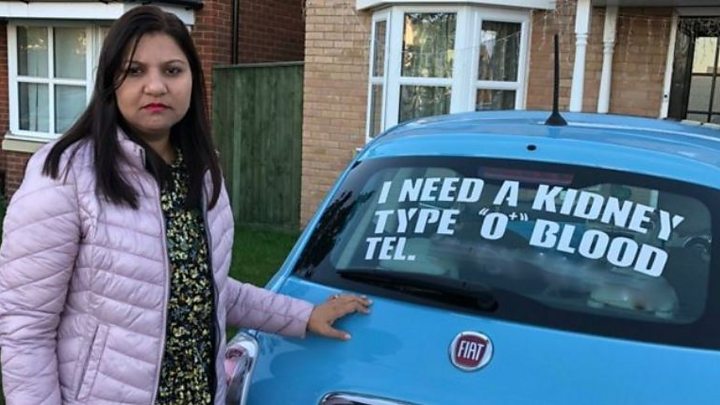 A woman who needs a new kidney is appealing for organ donors on the back of her car.
Sunaina Singh, 37, was diagnosed with chronic kidney disease six years ago and has been on dialysis for two years.
She is on the waiting list for a new organ but is looking to speed up the process with a willing, suitable volunteer.
Mrs Singh, from Coventry, says no matches have been found in her family and a donation is her "only hope".
Her unusual advert features on both her car and that of her husband, who has the same blood type but is unable to be a donor.
She said she was inspired to try the four-wheel appeal when she saw on social media that it had been done in America.
Mrs Singh and husband have been driving around with the appeal to "change our lives" for four weeks, and they have received a few enquiries.
You may also be interested in:
"But it's not as simple as just saying 'yes'," Mrs Singh said.
"It can't be done overnight. It's life-changing for [the donor] as well as us, but it's the only hope we have."
Mrs Singh, who needs to have dialysis three times a week, says her kidneys have "completely failed".
She said: "I'm really tired all the time, I can't do anything.
"It's really impacted my life. Me and my husband are really suffering."