Hero Coventry bus crash bystander 'saved many lives'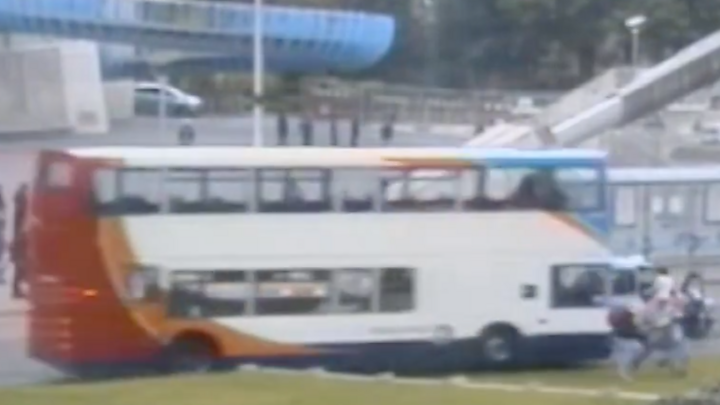 A bystander credited with saving lives when a bus crashed into a supermarket has said it was the "worst day of his life".
Teil Portlock, 35, was caught on CCTV urging people to move when a bus driven by Kailash Chander crashed into a Coventry Sainsbury's in October 2015.
Two people died in the crash, but police said Mr Portlock's bravery "saved many other lives".
A trial of facts on Tuesday found Mr Chander was driving dangerously.
Mr Portlock said: "I was just shouting, screaming, 'run, run'.
"My initial thought was to run away, but I thought, 'no, I can't, I've got to go around to the other side of the bus to see if other people can get off'."
The forklift driver from Coventry was standing on Trinity Street when Mr Chander's bus crashed into the supermarket, killing seven-year-old Rowan Fitzgerald and 76-year-old Dora Hancox.
"It was the worst day of my life," he said. "Absolute pandemonium."
Mr Portlock told the BBC he was "really emotional" after the crash and had flashbacks "for weeks" afterwards.
Prosecutors said 80-year-old Mr Chander, from Leamington Spa, mistook the accelerator for the brake as the double-decker sped for 12 seconds before the crash.
He was also found responsible for causing serious injury to two passengers by dangerous driving, but a diagnosis of dementia after the crash meant Mr Chander was deemed unfit to enter a plea or stand trial.