Coventry bus crash: Driver 'was shaking before fatal crash'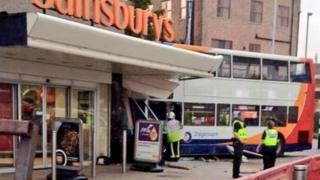 A bus driver who crashed into a shop, killing two people, struggled to punch a ticket seconds earlier because his hands were shaking, a court has heard.
Prosecutors at Birmingham Crown Court allege Kailash Chander, 77, pressed down the accelerator instead of the brake in Coventry in 2015.
Passenger Casper Mudenha told the court it felt like "the bus was out of control".
Mr Chander, from Leamington, is unfit to plead or stand trial.
The now 80-year-old is charged with causing death by dangerous driving, but has been excused from attending the "finding-of-facts" trial.
Bus passenger Rowan Fitzgerald, aged seven, and pedestrian Dora Hancox, 76, died in the crash in Trinity Street on 3 October.
Giving evidence, Mr Mudenha said the driver "took some time" to punch his ticket and Mr Chander was "struggling" to put it in to a slot.
The passenger told the court: "He was shaking, his hands were shaking. I asked him to just rip it and give it back to me."
Jurors heard Mr Chander eventually managed to punch the ticket and then set off before Mr Mudenha could walk to the upper deck.
The witness added: "Before I stepped on the stairs, the vehicle was in motion and he hit a single-decker which was in front of him.
"There was a taxi rank on the right, which he veered towards. It all happened so quickly. There were some flagpoles he was hitting and smashing down.
"You could see people running away from the bus. Then it stopped by hitting the Sainsbury's wall."
Mr Mudenha added: "It felt like the bus was out of control. I was focusing on saving myself, holding as tight as I could to the rails."