Coventry emergency department 'unsuitable' for patients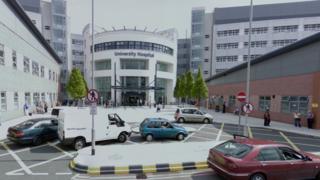 A inspection at a hospital found parts of its A&E department "were unsuitable" for patients.
Despite recognising improvements at University Hospitals Coventry and Warwickshire NHS Trust, the Care Quality Commission (CQC) has given it a requires improvement rating.
The report also said the service did not always have enough nursing staff.
The trust's chief executive officer said it is on a "journey of continuous improvement".
Some areas of the trust were given "good" ratings, with end of life care receiving an "outstanding" rating and the Hospital of St Cross in Rugby receiving a rating of "good" overall.
But inspectors said University Hospital Coventry requires improvement overall.
The CQC said urgent and emergency care and maternity at the hospital were of particular concern, as not all staff had mandatory training.
It said some areas of the emergency department were "unsuitable" for patients, adding: "The resuscitation room was too small and there was poor line of sight of patients in the major treatment area."
Chief inspector of hospitals, Professor Ted Baker, said: "We also found that records were in a poor state in the cardiothoracic critical care unit and there was not an effective system to monitor patient outcomes in the unit at University Hospital.
"The trust has told us they have listened to our inspectors' findings and its board knows what it must do to ensure it makes the necessary improvements."
Trust chief executive officer Professor Andrew Hardy, said:" I am confident that we have a clear plan to address the issues identified in this report to get to a 'good' rating and make the care for all our patients even better."