Drone footage shows Coventry 'bike louts running amok'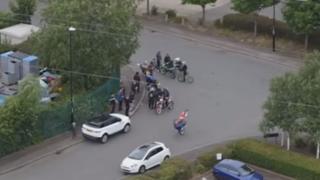 Drone footage capturing off-road "bike louts running amok" on an industrial estate has been released by police.
Video of bikers speeding and "pulling wheelies" at Seven Stars business park in Coventry was shared by West Midlands Police.
More than 20 people were arrested at the scene and nine bikes, seven of which were stolen, were seized.
The operation was prompted by a "flood" of complaints from industrial estate staff and the public.
The suspects will be questioned after the incident on 17 June and could be charged with public nuisance offences, police said.
Insp Andy Bridgewater said some businesses are open 24 hours and staff have been "intimidated by the bike louts" who have caused issues for work vehicles and deliveries.
"The drones give us a great vantage point from about 400ft and provides great quality footage which will help us secure convictions against offenders," he said.
Police said the bikers drive through Coventry while wearing face coverings or balaclavas, pulling stunts in the streets, riding on pavements, and "direct traffic as though they own the roads".
You may also be interested in:
On some weekends, the force said they have received up to 60 calls from people living in the area.
The force's new drone capability has been funded by money recovered from criminals at court.