Nuneaton man found guilty of illegal immigrant smuggling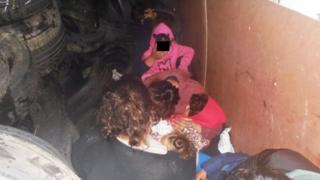 A man who tried to smuggle nine illegal migrants into the UK in his van has been jailed for four years and six months.
Kristopher John Salt, 27, Bosworth Road, Nuneaton, was found guilty of assisting unlawful immigration into the UK after three adults and six children, including a one-year-old, were found.
Salt said the van was for transporting second-hand tyres.
Border Force officers said his actions endangered lives.
He was sentenced at Canterbury Crown Court on Thursday.
The court heard how Salt's VW Crafter van was stopped on 13 May 2016 by Border Force officers at the Channel Tunnel entrance in Coquelles, France.
Salt said he had hired the van to go to Brussels and buy second-hand tyres which he intended to re-sell in the UK.
Officers asked Salt to open the rear of the van and, hidden in a small space among the stacks of tyres, found nine illegal migrants claiming to be from Iraq.
The group comprised of two family groups, the Home Office said.
During questioning Salt said he was a self-employed DJ but that his income was not regular.
He also maintained that he had been unaware of the migrants hidden in the van, the Home Office said.
However, officers said a text message on Salt's mobile phone received from a third party which they said indicated that he was being paid for his involvement in the crime.
The families found in Salt's van were passed to French authorities.