University of Warwick bans students over hate posts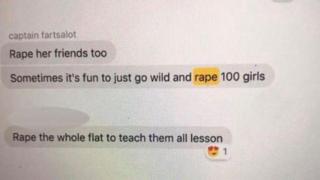 Three students have been banned from the University of Warwick after misogynist and racist messages made in a Facebook group chat emerged.
Student online papers The Boar and The Tab obtained screenshots from a group message, with one talking about raping "100 girls".
An investigation was launched and the university said one student had been banned from campus for life.
Another two have been banned for 10 years.
A further two students are required to withdraw from the university for a year and will face disciplinary action, including fines, along with three others.
One of the messages revealed by the student news outlets said: "Sometimes it's fun to just go wild and rape 100 girls."
While another said: "Rape the whole flat to teach them all [a] lesson."
Another post included a racially offensive term and anti-Semitic language.
At one point, a user wrote: "Rape her in the street while everybody watches," with another responding it "wouldn't even be unfair".
The messages came to light after two formal complaints were made to the university, which said an investigation was launched within 24 hours.
A total of 11 students were suspended from the university after the messages came to light.
Following the conclusion of its investigation, the university said the allegations were "extremely serious" and were a "significant breach" of the university's policy called Dignity at Warwick.
It states students should be "treated fairly and with dignity and respect" and that "bullying and harassment are not tolerated".
However, the case against one student was found to be "not proven by the university's major disciplinary committee" and two of the originally accused students were "exonerated at an early stage of the process", it said.