Sister's tribute to Coventry hit-and-run death father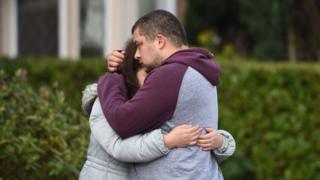 The aunt of two boys killed in a hit-and run crash in Coventry has paid tribute to their father after he was found dead in a hotel in Greece.
Chelsea Platt-May said Reece, 30, was not just her brother but her friend.
Mr Platt-May's body was discovered on the island of Corfu on Thursday. His death is not being treated as suspicious.
His sons, Casper, two, and Corey, six, were killed by a speeding driver as they crossed a road in February.
In a post on Facebook, Ms Platt-May said: "He was the man I wanted to walk me down the aisle next year, the man who would help me dig massive holes at the beach, my football buddy, my shoulder to cry on when there was no-one else.
"Overall [he was] my brother who was always there for me to protect or support me."
On Thursday, West Midlands Police confirmed Mr Platt-May had been found dead in the early hours.
The matter is to be passed to the coroner.
After his sons' deaths, Mr Platt-May had said the family was "plodding along" and "coping".
"Me and my wife have both got huge families, they're giving us all their love."
Last month Robert Brown, 53, admitted two counts of causing death by dangerous driving and was jailed for nine years.
A request has been made to the Attorney General's office asking for Brown's sentence to be considered under the unduly lenient sentence scheme.
Gwendoline Harrison, 42, of Triumph Close, Wyken, who was a passenger in the car, was also sentenced to six months' imprisonment.
She had admitted a charge of assault intending to resist arrest and trying to leave the scene.