Man jailed for mobility scooter row murder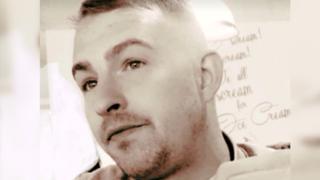 A man was murdered in a street after challenging another man about vandalising a mobility scooter.
Harry Stone repeatedly stabbed Scott Bosley, 29, after an altercation in a pub in Warwick on 26 December.
Stone left the pub to arm himself with a knife before coming across Mr Bosley, who was on his way home.
After killing him he remained at the scene and confessed to police. He was jailed for life at Warwick Crown Court after admitting murder.
He must serve a minimum of 18 years.
Mr Bosley, known as Boz, had gone to watch the football at his local pub and while there saw Stone damaging the scooter, which let to a disagreement between the pair, police said.
Stone, who lived in Canada but was visiting family in Warwick, stabbed him in Kettlewell Close.
Det Sgt Sean Tonelli said: "This wasn't a heat of the moment incident. Stone made a deliberate and premeditated decision to go and get a knife.
"In the time it took him to collect the knife and return he could have changed his mind and come to his senses, Scott would still have been alive and Stone wouldn't be facing a minimum of 18 years in prison."
Mr Bosley's family said his death has left a big hole in their lives.
He was described by his long-term partner Bethann as the "life and soul of every party".
His father Clifford said: "I will only ever have one question for Stone, and that will be 'why?'
"I loved Scott and he loved me, I saw him and spoke to him every day.
"I miss him so much. I will remain heartbroken and totally devastated by what has happened for the rest of my days."
Correction 14 May 2018: A reference to how Stone met his victim has been changed following clarification from police.