Shipping container dumped in Warmington garden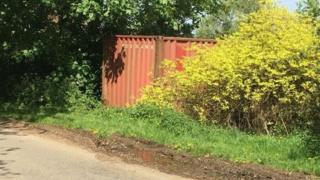 A woman was left baffled after discovering a large shipping container mysteriously dumped in her back garden.
Jane Sollis said the 20ft storage facility was probably moved from a lorry and winched on to her land in Warmington, Warwickshire.
Her garden fence was damaged during the bizarre incident and no paperwork was left for the container marked "Taiwan".
Ms Sollis's family had listed the unit for sale on eBay, but she said it was now being removed from her property.
The container only had a few building materials inside when the 54-year-old found it on Saturday.
She reported the issue to police and her local council.
Ms Sollis, a waitress, told the BBC: "This shipping container is a complete eyesore and I want it gone. It is a mystery why it was left in my garden."
You may also be interested in:
A Warwickshire Police spokeswoman said: "I can confirm that a shipping container was dropped off in the garden of a residential property in Warmington on 5 May.
"It is believed that the container, filled with building materials, was dropped off in error.
"The delivery of the container appears to have caused some damage to a nearby fence. Inquiries are ongoing."
Stratford-on-Avon District Council confirmed it had been told about the mystery unit's appearance.