Coventry man faces terror charge after homes evacuated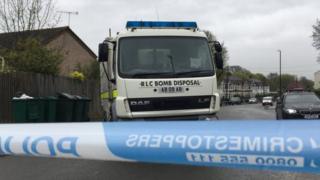 A man has been charged with a terrorism offence after homes were evacuated and a controlled explosion carried out.
An army bomb disposal team searched a property on Brookside Avenue, Coventry, on 24 April and subsequently asked neighbouring residents to leave.
A controlled disposal of a substance was carried out on nearby waste land.
Chez Copeland, 20, from Brookside Avenue, appeared at Westminster Magistrates' Court on Wednesday.
He is charged with having notes relating to explosives that were likely to be useful to a person committing or preparing an act of terrorism, two offences under the Explosives Act and possessing a stun gun.
Mr Copeland is due to appear at Coventry Crown Court on 8 June.