Coventry City Council branded 'delusional' over parking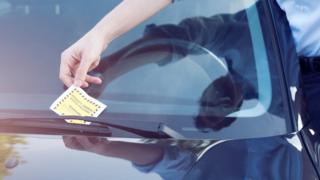 A council was branded "delusional reminiscent of King Canute" by independent adjudicators over car parking charges.
Coventry City Council's scheme was not understood by motorists, the Traffic Penalty Tribunal said.
Road campaigners have argued a lack of signage made restricted parking zones unclear.
The council insists the measure is enforceable despite issuing 60,000 parking tickets in six years.
The council has made at least £1.5m from parking charges since the new scheme was introduced in 2012.
Chief tribunal adjudicator Caroline Sheppard referred to the legendary Viking leader and 11th Century King of England in her report after King Canute was accused of being deluded to assume he had the powers to control nature.
Lady Godiva
Ms Sheppard said the high number of parking charge notices (PCNs) issued since 2012 should prove the Restricted Parking Zone (RPZ) is not understood by motorists.
"Yet Coventry City Council, seemingly with a determination and delusion reminiscent of King Canute himself, has continued to enforce PCNs.
"The disgruntlement... echoes that felt by [citizens'] medieval forbears about the tolls imposed by Earl Leofric, causing his wife, Lady Godiva, to undertake so memorable a protest to draw attention to their plight."
Colin Knight, director of transportation and highways at Coventry City Council, said the RPZ was approved by the Department for Transport (DfT) and the scheme continued to be enforceable.
"Our signs were designed in partnership with the DfT and the whole point of implementing this zone back in 2012 was to make parking in the city centre consistent and easier to understand."
He added the council was considering challenging the adjudicator's findings.
It is unclear if fined motorists will be entitled to their money back.