Call for 'lenient' Coventry hit-and-run sentence review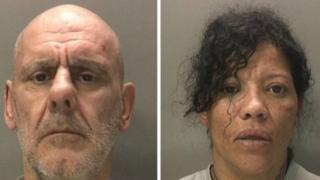 The government's top legal advisor has been asked to consider whether the sentence of a driver who killed two boys while on cocaine is too lenient.
Brothers Corey and Casper Platt-May - aged six and two - died when they were hit by a car in Coventry in February.
Robert Brown, 53, of Attwood Crescent in Wyken, Warwickshire, admitted two counts of causing death by dangerous driving.
On Friday, he was sentenced to nine years in prison.
The request to the Attorney General's office asks for the matter to be considered under the unduly lenient sentence scheme.
The office will also be looking into the case of Gwendoline Harrison, 42, of Triumph Close, Wyken.
A passenger in the car, Harrison was sentenced to six months' imprisonment after admitting a charge of assault intending to resist arrest and trying to leave the scene when she "knew two children lay dying".
The Law Officers have 28 days from sentencing to consider the case.
The road safety charity Brake has previously described the sentence as an "injustice" and said it felt it was "too lenient".
Brown and Harrison were both found to be four times over the limit for cocaine when the Ford Focus driven by Brown "ploughed" into the boys as they crossed Longfellow Road with their family.
Corey was thrown into the air by the impact of the collision and landed some distance away, the court heard.
West Midlands Police Collision Investigation Unit calculated that Brown was driving at more than 60mph.
The government has said those who cause death by dangerous driving could face sentences equivalent to manslaughter, with maximum penalties raised from 14 years to life.