Kenilworth rail station reopens after 50 years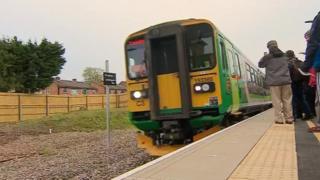 Kenilworth station has reopened to passengers after decades of campaigning.
The station shut in the 1960s as part of the Dr Beeching cuts.
Residents, who campaigned for 30 years for the station, had been promised it would open in 2016 but the start date kept getting put back.
Passengers said it was "absolutely brilliant" to see the station open and they hoped it will boost trade in the Warwickshire town.
Residents and visitors will be able to use an hourly service in each direction between Coventry and Leamington Spa, except for Sundays.
One man at the station told the BBC he would take advantage of those locations' London links.
He said: "I think it will give us a lot more flexibility in Kenilworth.
"I'm really looking forward to taking the routes down to Marylebone or Euston - so Coventry or Leamington, that would be handy for me."
A woman who normally commutes to Coventry by bus added: "It will be a big change for me - it's going to cut [the journey] down from about one hour to 10 minutes."
Francis Thomas, from West Midlands Railway, which operates the service, said the service had created "a real buzz around the town".
Work started on the station in Priory Road, the site of the previous station, in early 2015. The estimated cost then was £11.3m.
Monica Fogarty, the joint managing director of Warwickshire County Council, added delays to the opening would be looked at.
"There's big lessons to be learned in this for us, there's no doubt about that," she said.
"Now that the station is up and running, that is what we are going to be turning our attention to."