Fund launched for Solihull children who face being orphaned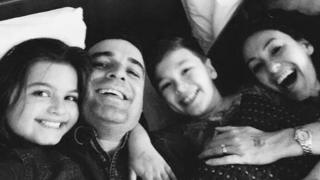 A fundraising campaign is under way to support two children who face being orphaned.
Paul Maley, 44, from Balsall Common, Solihull, died on 8 March after suffering a stroke brought on by an underlying condition.
His partner of 18 years, Emma, 40, was told in February that she had terminal cancer.
Relatives are now fundraising for their children Louis, 16, and Ella, 14, who has autism.
Ms Maley's cousin, Kate Smith of Water Orton, Warwickshire, said Mr Maley, who ran his own home maintenance business, had been found to have an arteriovenous malformation, a tangle of blood vessels on his brain, after he collapsed about 18 months ago.
Family said doctors said he had likely had the condition since birth without being aware of it, and had been due to have an operation to treat his condition on 19 March.
Four years ago, Ms Maley was diagnosed with breast cancer and underwent a double mastectomy and hysterectomy.
In January 2017, she discovered it had returned, undergoing chemotherapy. But last month she was told she had just months to live.
Ms Smith said: "It is horrific; it is like a bad dream.
"They have both been so positive. Both had a very strong faith and always lived for the day.
"No-one deserves something like this to happen, but they definitely don't."
The couple had planned to marry on 16 March, with their family helping to arrange a ceremony after Ms Maley's diagnosis.
Ms Smith, who is legal guardian of the children along with Ms Maley's mother and brother, has set up a donation page to try to raise money for the children.
She said: "It is so they can go on holidays. Louis will be starting to drive soon. It will help them do the normal things that a mum and dad should provide."
Ella attends a special school and Ms Smith said it was likely she would need help as she moved into adulthood.
The family have been living off savings in the 18 months since Mr Maley fell ill.
A total of £3,400 has been raised in three days and Ms Smith said the response had been "incredible".