Alfie Dingley: 'Break the law' call on medical cannabis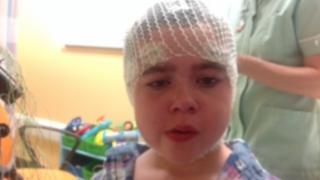 An MP has urged medical cannabis users to "break the law" to use the treatment.
It came as the case of Alfie Dingley, six, from Kenilworth, Warwickshire, was discussed in the House of Commons.
Newport West Labour MP Paul Flynn said it would take a "heart of stone" to refuse the family medicinal cannabis to treat their son's epilepsy.
Home Office Minister Nick Hurd pledged to help Alfie, but said cannabis did not have proven "medicinal benefits".
The urgent Commons debate had been tabled by Conservative MP for Reigate, Crispin Blunt, after the Home Office denied the family's request for a licence as the drug is illegal in the UK.
Mr Blunt said the national approach "flies in the face of the popular view".
He said there was evidence of the effectiveness of cannabis-based treatments.
Alfie was taken to the Netherlands to take a cannabis-based medication in September. It reduced the number of seizures he had, said his family.
Mr Hurd said the government "sympathises" and would try and find a solution "within existing regulations".
During the debate, Mr Flynn said it would take a "heart of stone" to tell a parent "that your child has to turn blue up to 30 times a day and have a seizure" because of the law.
To medicinal cannabis users, he said: "I would urge them to break the law, because the law in this case is an ass."
Conservative MP for Kettering, Philip Hollobone called for a free vote on the medicinal use of the drug.
A private members' bill on the use of medicinal cannabis, raised by Mr Flynn, will be discussed on Friday.