Man 'attacked in Leamington Spa Sikh temple disturbance'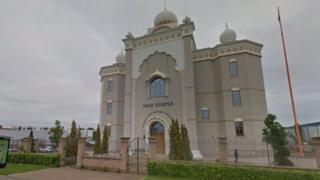 A Sikh temple official was assaulted by demonstrators during a protest about inter-faith marriages, a court has heard.
Protesters forced open the doors of a Warwickshire gurdwara ahead of a mixed-faith wedding ceremony in 2016.
A trial at Birmingham Crown Court heard a group "rushed" the Leamington Spa temple shouting insults in Punjabi.
Gursharan Singh, 34, and Kulvinder Bir Singh, 38, both deny religiously aggravated offences.
At the start of the trial, prosecutor Sophie Murray said the pair had attended the temple with the sole intention of disrupting a marriage ceremony "with which they disagreed".
Prosecutors allege Gursharan Singh, of no fixed address, assaulted temple committee member Bhopinder Singh Aujla. A charge he denies.
Giving evidence from behind a screen, Mr Aujla described how another official received a call from a security guard warning him men were "rushing" the gates ahead of a wedding service on 11 September 2016.
He told the court: "Once I'd locked the door, I went towards the dining room just to alert my colleagues that there were people outside banging the doors.
"I just started moving out of the way, feeling frightened, and the next thing you know one of them tried to grab me between the legs.
"Another one of his colleagues grabbed me quite tightly by my tie and I pushed his hand away."
Kulvinder Bir Singh, 38, of Tilehurst Drive, Coventry, denies damaging signs relating to the ceremony at the temple.
The gurdwara had experienced problems in the past over its decision to hold inter-faith weddings, the court was told.
The trial continues.