Air ambulance 'told to move over health and safety risk'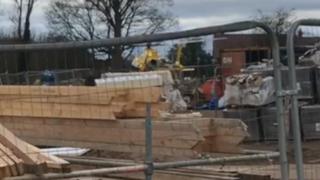 An air ambulance pilot was asked to move by a building site worker because they were a health and safety risk.
The Warwickshire and Northamptonshire Air Ambulance was called out to a patient in Leamington Spa on Sunday.
But a saleswoman for Persimmon Homes "proceeded to have a go at the pilot" after landing in a cordoned off area of the site, a witness said.
The housebuilder said it understood the need to help the patient but health and safety was "of paramount importance".
Witness Mike Bunting said he was shocked by the woman's response when the crew - the second to be called out - landed to treat a resident living nearby.
He added: "She proceeded to have a go at the pilot of the ambulance, to say 'it's just not possible, you can't park it there, it's a health and safety risk'."
Mr Bunting said the saleswoman then started "giving us an earful".
"We just said 'how would you like it if it was one of her loved ones?'"
Philippa Gibbs, from the ambulance charity, said the helicopter needed to park wherever was best for crews to access patients.
She said teams were "very experienced at landing in all sorts of unusual places" and safety was not compromised.
There was "no animosity" after the incident, she added.
Neil Williams, from Persimmon Homes, said at no point would workers obstruct emergency services.
He added: "The air ambulance landed on a working construction site that was closed to the public and while we understand that was necessary to access the patient, our staff observed that the landing area, which was a locked off area, contained hazardous materials that needed to be re-secured in order to prevent public access or any danger to existing residents."
The patient was taken to hospital by road.