Homes plan for Brandon Stadium, former home to Coventry Bees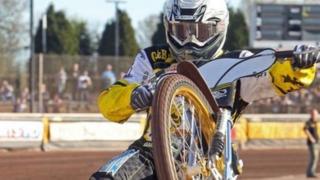 Plans for more than 130 homes on the site of Coventry Bees stadium have been submitted by developers.
Brandon Stadium, near Coventry, which hosted speedway and stock car racing, was sold in 2014.
The Bees stopped racing there in 2017 and now compete in Leicester after being unable to unable to agree a deal to stay.
Developer Brandon Estates wants to build 137 homes and has lodged plans with Rugby Borough Council.
But campaigners are opposing the plans and hope to bring the sports back to the ground which has a "rich history" in racing.
Jeff Davies, from Save Coventry Speedway, said travellers had moved on to the land on five occasions and the stadium had been vandalised.
'Fires started'
"It's disgraceful the stadium has been allowed to deteriorate to the state it's in," he said.
"We won't give up. The stadium has such an incredible heritage... some 90 years."
In a statement, Brandon Estates said they were "doing said everything in their power to prevent trespassing and damage" after fires were started "on a number of occasions".
The Bees were due to ride in the Premiership, the top flight of British speedway, last year and although they could stage some meetings in Leicester, the British Speedway Promoters' Association said it was not satisfied the club could fulfil a full season.
But following a meeting with the Speedway Control Bureau, the club said earlier this month it could race in 2018 in the National Development League - the lowest division - at its temporary home at Leicester.
Mr Davies admitted it would be "a struggle to survive" and there was reluctance from fans to watch the team race in Leicester.