Gang jailed for forging British immigration documents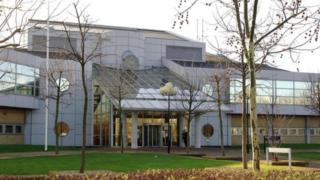 Seven men who forged identity documents, including British passports, have been jailed.
The gang, from the Midlands and London, also supplied residency documents and a university degree certificate for cash.
The group created fake IDs to help people live illegally in the UK but were foiled when undercover officers placed orders for the fake documents.
All the men admitted the charges against them and were jailed at Woolwich Crown Court.
Police were supplied with three passports for £800 each, a British residency permit for £600 and a university degree certificate for £200.
Insp Ben Thomas, of Immigration Enforcement's criminal and financial investigation team, said bringing the gang to justice stopped a "systematic and financially motivated assault on the UK's immigration system".
Those jailed were:
Gang leader Steven Kanaventi, 39, of Mulliner Street, Coventry. He pleaded guilty to conspiracy to manufacture a fake document and was jailed for 40 months and two weeks
Paul Kanaventi, 37, of Forster Street, Nottingham. He admitted a charge of converting criminal property and was given nine months
Madalitso Majawa, 33, of Ombersley Close, Redditch. He was sentenced to six months after pleading guilty to possession of an identity document with improper intent
Abdul Azeeza, 58, of Missenden, Inville Road, London. He admitted two counts of possessing an identity document with improper intent and possessing equipment with the intention of making fake documents. He was sentenced to four years
Alfred Adekoya, 47, of Kingslake Street, London, was sentenced to 40 months and two weeks after admitting conspiracy to manufacture a fake document
Victor Ariyo, 53, of Rye Hill Park, London, admitted conspiracy to manufacture a fake document and money laundering, and was sentenced to three years
Luke Nkanta, 29, of Wordsworth House, Woolwich, was sentenced to 16 months after pleading guilty to possession of an identity document with improper intention