'No trains' at Kenilworth's new railway station 'until 2018'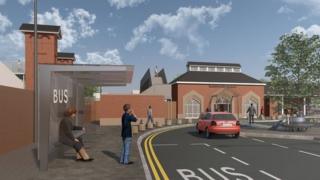 A town's fifty-year wait for a railway station continues amid a row over when trains can run through it.
The county council says the site in Kenilworth, Warwickshire, is complete but has been told by the Department for Transport (DfT) that neither trains nor drivers can be supplied until February.
The authority said it was "beyond disappointing".
The government department said the council was to blame for delays.
Work started on the station in Priory Road - where the previous one was shut in the 1960s under the Beeching cuts - in early 2015. The estimated cost then was £11.3m.
It followed years of campaigning before the plan received government support in 2013.
Monica Fogarty, joint managing director at the council, said the authority 'worked around the clock to get the station ready'.
She said: "The hugely disappointing news is that the Department for Transport has not been able to meet the same pace as the Council.
"The DfT tells us there will be no train service until February 2018. The Department is unable to supply the train and drivers in order to meet the December opening date, and this is beyond disappointing for the people of Kenilworth."
Safety assessments
A DfT spokesperson said it was disappointed the authority sought to blame it for "a further delay" to the station's opening, adding: "The station was originally supposed to open many months ago, and the council and its contractors again appear to have failed to meet a revised delivery date to get the station ready for service."
She said the council had been unable to obtain industry agreement from Network Rail, the train operator, to enable the service to start operation and the DfT understood outstanding issues also included quality sign-off, regulatory approvals and safety assessments, plus industry agreement of the proposed train timetable.